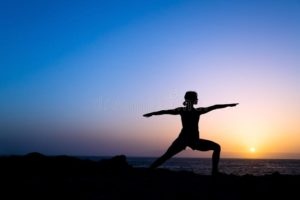 YOGA FOR HEALING
Classes to help those with anxiety, depression and trauma.
Yoga is becoming ever more popular. Recent research highlights its benefits for mental as well as physical health.  By balancing the sympathetic with the parasympathetic nervous system, harmony is restored to body, mind and spirit. You can learn to calm the body and listen to its genuine needs. Anxiety, depression and the effects of trauma can be alleviated by targeted yoga practice.  From June 2018 I will be offering therapeutic yoga sessions where people can heal stresses, anxieties and trauma as part of a small group. I will also incorporate it into my one to one therapy practice using my newly created yoga studio across the garden from my cabin.
Many people who are anxious or feel low do not want to be part of a large yoga class. In my groups we will get to know each other and talk about how the yoga poses or breathing practice affect us. We will share and support each other to heal. Relaxation, visualisations and breathing practice will form an integral part of the therapeutic yoga classes. Less is more in a healing yoga approach so you will have time to limber and adopt a yoga pose and really feel what it does for you. Even if it triggers a difficult memory, you can bring kindness and healing to your wounding and move on from it. Yoga is a beautiful form of self-care. Yoga has the power to free your body of long held emotional patterning, enabling you to feel more relaxed and at home in your body.
GODDESS YOGA  –  Step into your power and discover the goddess within.
These classes are aimed at women who want to follow the yogic path of empowerment.  We will explore the different archetypes of, Rhiannon, the Goddess of Love, and include other goddesses in our practice. Releasing energies and emotional patterns that hold us back in our lives, we will discover and feel able to follow our calling. Yoga provides the pathway to liberation and connects us with our souls, our spiritual life and the realisation that we are divine beings.